As you can imagine, this cake, expertly designed and executed by Dan's mom, was a huge hit.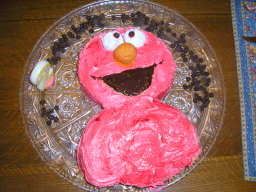 "It's Elmo! Elmo!" Shef squealed happily all the way until it came time to dish up, at which point his enthusiasm faded markedly.
"Daddy's
cutting
Elmo," he noticed skeptically, which was our cue to make a quick exit.